Police Corruption in the News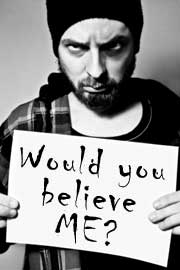 The importance of these news stories is not only in noting the extent and degree of a history of police corruption in the Toronto area police forces, but to underline the gravity of the official coverup and subversion of these investigations and subsequent court trials.
Eddy Loper is missing because his father tried to expose police wrongdoing in the Toronto area prior to the time line of these articles.
It is not difficult to cast doubt on the testimony of drug dealers, prostitutes or other individuals on the wrong side of the law. Corrupt police rest confident with that knowledge.
When the individual making the charges is a former law enforcement officer with indisputable evidence of your illegal activities, that charade will no longer hold water.
Such was the case when corrupt Durham Regional Police discovered Scott Loper was about to expose their criminal enterprises.
News Excerpts
"I volunteered for the task force after I was assured it would go where it goes," testified Sgt. Cassells. "It did not."
Despite the length of the probe, Sgt. Cassells has sworn in an affidavit that senior management refused to follow up on many incidents uncovered by the internal investigators.
"Police Brass Said To Have Blocked Internal Probe"
Lawyer Peter Biro said the "whole memorandum is really an exercise in trying to develop a strategy to avoid public scrutiny ... avert a public inquiry."
... numerous incidents uncovered during the probe were minimized, ignored or had gone unprobed amid police brass indifference and interference.
One of Mr. Stonechild's friends said he saw him shortly before his death in a police car, handcuffed and screaming.
They have even been accused of dumping intoxicated Native Canadians on isolated snowy roads to freeze to death in the prairies.
"Misconduct Charges Sully Image of Canadian Police"
The Markovics claimed the nine officers beat him in his pizza shop and later robbed him of close to more than $361,000 in cash and valuables.
"It was deliberately covered up," Falconer told a Toronto court at a Wednesday hearing. "They pulled the plug."
"Toronto drug officers face more corruption accusations"
The Toronto police force is again beset by scandal, but the Ontario government says there's no point launching a public inquiry into the conduct of the city's cops.
"Government of Ontario rejects probe of Toronto police corruption"
Durham Region: The former DEU member who cannot be identified said that some of the officers among the 20 may only have transported prisoners for the DEU or been working in the prisoner cells areas when prisoners were brought in by the DEU or transport officers.
"Durham Region Police Officers Battered and Disheartened Over OPP Investigation"
Quigley has always maintained that he had been beaten, tortured and robbed five years ago when Toronto Police drug squad officers arrested him on suspicion of dealing marijuana. The investigation revealed that, after his interrogation, Quigley emerged bleeding from his face and having trouble breathing after being kicked in the ribs.
"Police report says suspect beaten by drug squad"
Sgt. Jim Cassells, a 29-year Toronto Police veteran with an unblemished record, asserts that "numerous" allegations of police wrongdoing have been "swept under the carpet," "minimized," only partially probed, or have fallen by the wayside amid interference from some senior officers.
Six months ago, Jim Cassells went public with allegations that police supervisors covered up, refused to investigate and turned a blind eye on alleged police brutality, public complaints and internal corruption. He now faces internal charges for speaking to the media and is no longer conducting interviews.
"Police brass ignored corruption allegations, second officer insists"
"What this document reveals is very serious ongoing organized criminal activity in the heart and soul of the largest police service in this country."
-- Defense Attorney Edward Sapiano
"Toronto police corruption probe laid a fraction of charges"
At the heart of the investigation was a "criminal conspiracy involving alleged abuses against the judicial system," including fabricating evidence, perjury, obstruction of justice and improper warrants.
"Behind the Toronto police scandal"
"This included fabrication of evidence, perjury, obstruct justice, and misconduct in the execution of search warrants, along with ... assault causing bodily harm, theft over $5,000, trafficking in narcotics, unlawfully in a dwelling house, threaten death, forcible confinement and breach of trust."
"'Rogue' police bullied witnesses"
"The very fact that there were other teams puts the lie to the oft-professed statement by [then-police chief Julian Fantino] … that this was just 'a few bad apples.'"
-- Defense Attorney Peter Biro
"Police brass ignored corruption allegations, second officer insists"
The judge blamed significant portions of the delay upon the actions of Insp. Bryce Evans of Toronto Police, the officer heading up the investigation.
She became a pariah, Prefontaine tearfully testified yesterday to the Law Enforcement Review Board, for breaking the so-called police code of silence and reporting other cops' alleged misconduct.
"Ex-cop claims she was harassed"
A Toronto police "whistle-blower" testified yesterday that interference by senior management prevented a special internal task force from probing all evidence of corruption against several members of a now-disbanded drug squad.
"Police brass said to have blocked internal probe"
"It's like knowledge is power and we have the power and we're not going to tell you."
-- Frank Addario, vice-president of the Criminal Lawyers Association.
"Police Breaking Code of Silence"
"The faster the review is done, the less chance there is of committing more damage ... Taking these steps may avert a Public Enquiry."
A "sample audit must take place of other units to attempt to provide some assurance that it was just ...one team."
-- Toronto Police Professional Standards Inspector Tony Corrie
"[The two officers] did not even want to question [witnesses] or even look at the seized evidence directly related to their case. Their only interest was whatever contents were in the safe deposit boxes."
"Montreal warned Toronto about drug officers"
... allegations that members of Toronto Central Field Command's drug squad beat up informants, stole money from drug dealers, gave false testimony, falsified documents and faked search warrants.
... I remain extremely concerned with what appears to be a lack of any overt action to review our court briefs, review our materials for disclosure or to work with us to formalize a prosecution strategy.
"Investigator demanded action on stalled case"