Eddy's Father, Scott Loper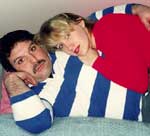 Scott and Carolyn Loper were a typical couple. Carolyn, a Canadian, met Scott after he had moved to Canada due to a previous short-term relationship. It was an instant attraction. They met in 1992 and married 3 years later. They enjoyed watching movies together, traveling, bowling, horseback riding and other recreational activities. Most of all, they enjoyed one another.
Eddy Loper was born to the proud parents in 1997, and the relationship turned to one centered around their new son.
Scott took Eddy everywhere. He was a proud father ... Daily trips to the park, picnics, duck feeding, trips to the zoo. Of course, quality time was spent at home as well. Scott took great enjoyment playing with his son and teaching him new skills. They were a happy family. Scott had a good job in the electronics field, and Carolyn stayed home with Eddy. On weekends, Scott's son and daughter from a previous marriage came to visit, and the children played together. They were close and they enjoyed spending time together as a family. Scott also has a daughter he raised as a single parent, who was, at that time, in college. Now a successful professional, she holds a great deal of love and respect for her father, as he does for her.
In 1998, Scott, Carolyn and Eddy moved to the town of Ajax, Ontario, Durham Region, part of the greater metropolitan area of Toronto.
Shortly after moving in to an Ajax town home, in 2000, Scott's experience in law enforcement brought suspicions that their next-door neighbor was a drug dealer, who's frequent guests included members of the Durham Region police force and the Hell's Angels biker gang. Illegal activities soon became apparent. Having worked in internal affairs in New Jersey, Scott had a very low tolerance for police corruption. Knowing that accusation may not be enough to convince authorities, Scott set up audio and video surveillance on his neighbor.
The intention was to gather enough evidence to convince the RCMP (Royal Canadian Mounted Police - Canada's FBI) to investigate. That idea was thwarted when Scott's surveillance devices were discovered, leading to a series of events encompassing extortion, torture, and government cover-up at high levels of both the Canadian and U.S. governments.
Scott was arrested for violating a restraining order he has never seen. He was simply told that an order had been signed by Carolyn. When he called her to find out the story, he was immediately arrested and taken directly to the basement of nearby Whitby Jail. The charge, he was told, was violating the unseen (and probably non-existant) restraining order.
Whitby jail, originally built in 1854, and torn down in 2004, was a small facility primarily used for housing the accused awaiting trial. It would be months before Scott was to see a court room. During that time, he was kept in a tiny, dirt floor room where he was constantly tortured at the hands of the police. Their intention was to force Scott to reveal where he was hiding the evidence that could lead to their conviction for criminal activities.
When the day finally came for Scott to go to court, he had a five minute conversation with a public defense attorney who advised him to plead guilty in order to avoid spending several more months awaiting a trial on an innocent plea. Scott was confused and distraught after the months of torture and convinced that a guilty plea for violating a restraining order would set him free of the torture and would certainly be a light sentence or release. What transpired next was anything but.
The entire court proceeding lasted no more than ten minutes. The judge called him a "very dangerous man", citing unfounded allegations by the prosecution that Scott had terrorized his wife and threatened police. "I was in a daze", Scott said. "After several months of being malnourished and tortured, I was barely aware and definitely confused as to what was going on. I started to sob. I was a mess. I tried to tell the judge 'I just made a phone call', but he threatened me with contempt."
Scott was given a two year sentence. He was not to find out until two years later that the charge was "Criminal Harassment". He was returned to Whitby Jail and more torture, until he finally gave in, revealing to the criminal cops the location of his surveillance tapes. Shortly afterward, he was transferred to Millbrook provincial prison. Feeling safely away from the horrors of Whitby Jail, Scott wrote a letter to a relative of Carolyn's, pleading with her to go to authorities. For that, he was convicted of violating a court order and sentenced to another two years.
Scott was then transferred to Joyceville, a federal prison. Scott: "I felt much safer at Joyceville. I was still in Ontario, but, since this was a federal prison, I was away from the direct threat of the Ontario system. I still felt the fear of the threats made to me at Whitby - that if I mentioned the torture that had occurred there, they had ways to get to me, and I didn't doubt that."
Nevertheless, while at Joyceville, Scott filed a complaint with the Ontario Civilian Commission on Police Services, detailing the criminal activities of the members of the Durham Regional Police Drug Squad. "I thought this was a civilian oversight commission," said Scott. "I thought it might spur an investigation by the RCMP that would eventually lead to my release. "All they did was pass my complaint on to the Durham Regional Police Service."
Scott then received a letter from the Durham Regional Police Service stating his claims were rejected on the grounds that they were "vexatious and frivolous" and because more than six months had passed since the incidents he described had occurred.
Scott: "This was worrisome. I'd been told, back at Whitby, to keep my mouth shut and that they had spies everywhere. There were a lot of Hell's Angels in Joyceville, and there were Hell's Angels associated with the activities of the crooked police in Durham Region. Seeing that letter come back from Durham Police headquarters .... knowing word could get back to the officers that tortured me, was frightening. I vowed to myself to keep my mouth shut and do my time until I could get out and away from the system."
Meanwhile, as Loper's four-year incarceration was coming to a close in 2004, things in Durham Region had gotten even more out of control, forcing the Ontario Provincial Police to launch their own investigation into activities within the Durham Regional Police Service. Once the investigation began to take place, Loper's sentence was cut short, and he was taken out of prison and dumped, still handcuffed and shackled and without identification, at a U.S. Border Patrol station - the fate of his wife and his three-year-old son unknown. All of his worldly possessions gone. He had been deported even before his first court appearance, back in 2001. He could not re-enter Canada.
Scott: "Everything that was my life was taken from me. I had nothing. No car, no home, no bank account, no credit cards .... nothing. I didn't even have any clothes other than the jail suit I was wearing. Worst of all, I had no idea what happened to my little boy. I called an attorney in Canada .... he wanted a $10,000. retainer. I couldn't even afford to buy a cup of coffee!"
Scott sought the help of a friend from the neighborhood where he grew up, in New Jersey. Rob Andrews was now a U.S. Congressman, and Scott realized if he was going to get any help, in the financial situation he was in, he would have to enlist the help of the U.S. Government. Furthermore, there were matters he could not fight on his own, because international treaties had been violated. Scott's Vienna Convention rights to contact the U.S. Consulate upon his arrest had been denied. As an individual, he could not hold the Canadian Government accountable for violating their agreement with the United States. That is the job of the U.S. State Department.
Scott: "Rob sent a letter to the State Department and, I believe, had some conversations with State Department officials. He even wrote a letter directly to Condoleeza Rice. Then, one day, I had dropped by to visit him at his office to discuss the situation. He looked at me rather sadly and said 'Scott, are you sure you didn't just imagine all this. The State Department says there's no record of your having ever lived in Canada.' This was a guy I had grown up with and he's looking at me like I've lost a few marbles!"
Scott next enlisted the help of House Majority Leader Steny Hoyer, and later, Congressman Frank Wolf, co-chair of the Human Rights Commission. The unsuccessful results of these attempts to seek justice through the State Department are detailed on the State Department Page.
Just as many who have gone through torture as prisoners of war, Scott Loper has adjusted, once again, to being a happily successful member of society. His tragedy, however, will not end until he is reunited with his son, Eddy. Scott has a very large and growing number of supporters throughout the United States and Canada. Among his friends and supporters are many well-established members of the U.S. government and military.
The torture Scott Loper went through in the basement of Whitby Jail, as these crooked police officers tried to force him to divulge the location of the evidence that could condemn them, could be described as nothing less than horrific, and will remain with him the rest of his life. He was forced into a small cage where he was blasted with steam, again and again, from a radiator pipe until his skin blistered and peeled. He was beaten and deprived of food for days; When he was given food, it was often mixed with human feces. Finally, near the end, he was secured in a steel locker, laid on it's side, for days at a time. He became extremely claustrophobic and was drifting in and out of consciousness. He could barely move inside that cabinet.
Scott: "One day, I heard someone screaming and begging for mercy. 'They've got someone else', I though to myself. He sounded like he was in intense pain. I felt sorry for the guy. He really sounded pitiful. He just kept screaming .... and it got louder and louder .... like they were wheeling him closer to me .... until the sound was almost deafening. Suddenly I realized it was me that was screaming. It's a very scary feeling when you realize you are becoming that detached from what is happening to you. That's when I gave in and told them where the surveillance tapes were located. I thought 'if I don't end up dead, I will end up losing my mind.'"